Popularly known as "God's Own Country", Kerala is doubtlessly a year round destination. But, this vast haven of most beautiful sights, lush greenery and scenic locations gets converted into a place of an altogether different charm during the monsoons. Indian monsoons have a special allure, casting a magic over people. What better place to experience it than in Kerala which is already full of an exclusive charm of its own! Find in this article 10 best places to visit Kerala in monsoons and see how these destination takes your vacation time in monsoon time to a whole new level.
Ashtamudi Lake
Mostly famous for its long stretches of verdant greenery of backwaters, the lake is one of the best places to be in the magical Kerala monsoon. Lazy afternoons are best spent here in the charming houseboats or by just simply sitting on the shore and listening to the sounds of the rain and delighting in the fresh catch. Or if you really want to dig yourself in the soothing touch of nature, Ayurveda massage or spas in any of the nearby resorts is your best bet.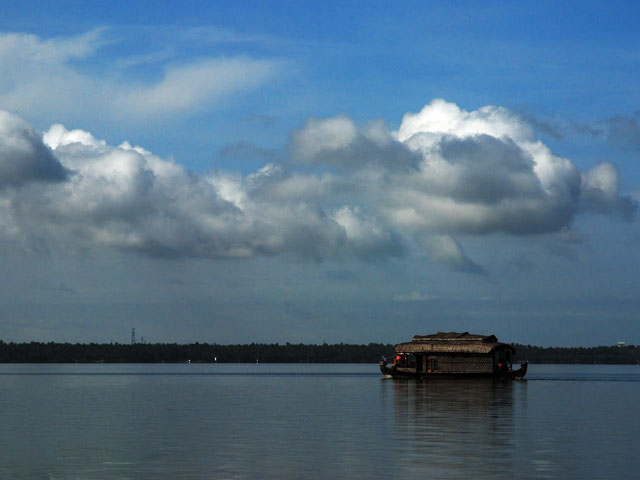 Sit in the ideal relaxation as morning turns into evening, relishing the wonderful breeze and overcast skies and soak in an experience that is unique and pleasurable, and one that you are not going to forget for a long time.
Alappuzha or Alleppey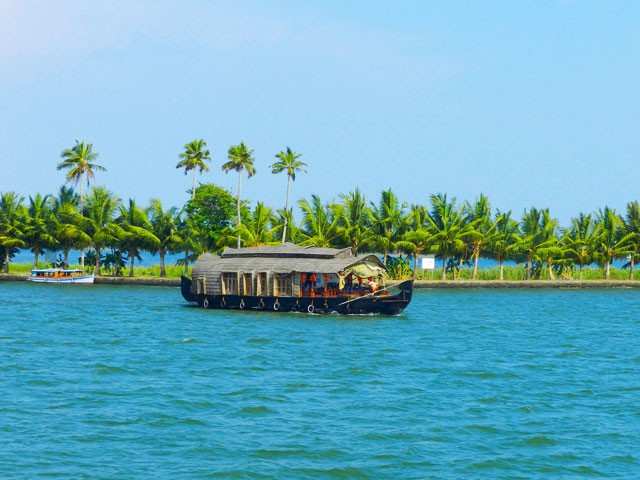 Pervaded with romantic settings of palm fringed beaches and lush greenery all about, the charm of Alappuzha enhances manifold during monsoons. The town is famously called the "Venice of the East" and rightly so since its charm lives in the incredible backwaters, where the medium of transport is mainly boats. Another popular appeal is the exciting, annual snake-boat race that draws a lot of attention from locals and tourists.
Flourishing with natural beauty, the relaxed and slow pace of life in Alappuzha keeps you enchanted, making you forget the stress of urban chaos for a while. The sounds, scents and atmosphere in this haven of nature during monsoons is simply irresistible making it an ideal place to visit during the peak of the rainy season.
Varkala
One of most beautiful places in Kerala to visit during the monsoons, Varkala is beaming with gems of all kinds-natural springs, elegant beaches, flourishing backwaters which look all the more beautiful with the arrival of monsoons in Kerala. Varkala is a quiet, serene suburb located on the outer regions of the Thiruvananthapuram district.
The place nevertheless has quite a peaceful charm. The imposing red cliffs with swaying palms form a perfect backdrop to the vast expanse of sea that lies in front of them. Small shops sell all kinds of cheap stuff and there are economical hotels and restaurants for some quick grab. Lying on the beach and enjoying the abundant showers and cloudy skies is experience with which few have any parallels.
Thekkady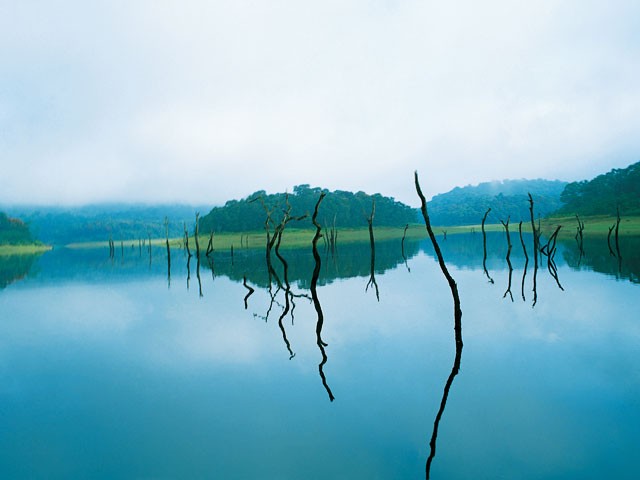 Home to the exquisite Periyar National Park, Thekkady is like a diamond in the crown of Kerala. Enriched with vast areas of tropical greenery including bamboos, reed banks, savannahs and deciduous forests, the views and sights of the town are simply mesmerizing. This heartwarming beauty gets further enhanced during the rains, when everything around gets soaked with water and appears fresh.
Besides relishing the wonderful views, tourists can also enjoy bamboo rafting and Jungle night patrol here in addition to other activities. Thekkady is known as one of the best places for natural spices such as black pepper, cinnamon, nutmeg, cardamom, clove and ginger. Full of elegant and memorable experiences, it's a great place to be to enjoy some great vacation time.
Kumarakom
Often referred as one of the 10 paradises on Earth, Kumarakom is a delight for a nature enthusiast. Full of most verdant and fertile views all over, the views and ambiance of this amazing place gets all the more enhanced during rains when blooms in all its vibrant colors.
As the rains subside, tourists will encounter a wide range of exotic bird species including local as well as migratory which are found around the Vembanad Lake. As you relish the incredible weather, you can indulge in pampering your body and mind with pleasing spas and Ayurveda massage. Located at a distance of nearly 16 kilometers from Kottayam, the magical town of Kumarakom is without doubt one of most fascinating places to be in Kerala.
Munnar
Taking long walks in the misty, surreal atmosphere of Munnar, amidst vast tea plantations and rolling hills is an experience straight out of any fantastical dream. And what can be said when monsoon casts its glance over this incredible place? The town literally emerges in all its glory with heavy showers forming beautiful streams and cascades.
Nevertheless, cloudy scenes, cool breezes and lush, fertile landscapes keep you enchanted and offer great sights for photography. Visiting this place in monsoon will definitely persuade you to come back again and again to marvel at its beauty.
Wayanad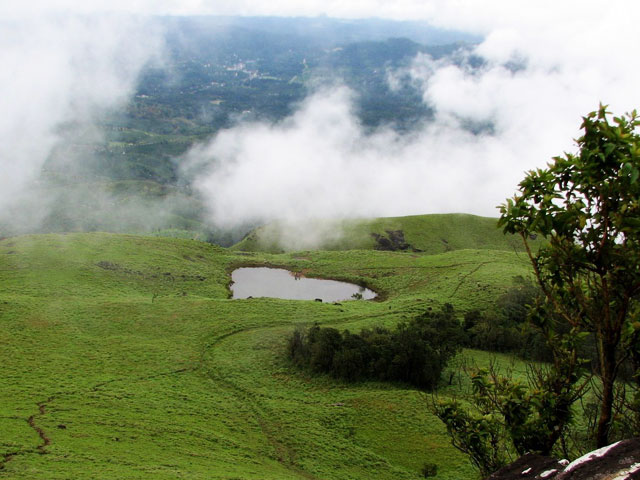 The wonderful combination of monsoons and a warm and cozy afternoon in a Wayanad Tree house is absolutely electric from the point of view of a romantic vacation. However that's not all, Wayanad, as becoming a fantastic Keralan town, is wonderfully picturesque and full of green cover that looks stunning during monsoons.
Wayanad experiences two spells of rain-one between June and August and other during October and November. Interestingly this also the time when many tourists head towards Wayanad because of its anticipated beauty and their previous experiences. Wayanad is a destination that will surely make a place in your heart with all its glory and magic that it exhibits during the magnificent rainy season.
Kovalam
Kovalam, with all its picturesque splendor and cinema scope grandeur gets completely transformed during the monsoons months of June and July. Tourists flock here to enjoy exciting beach activities like surfing and enjoying the amazing views of cloud studded skies and cool weather.
Kovalam is located around 16 kilometers from the Thiruvananthapuram city center and offers an almost limitless sight of coconut trees. The main attraction here is of course the incredible beaches-Lighthouse beach, Hawa Beach and the Samudra Beach which are illuminating hubs of several cheap restaurants, shops selling sundry items and various upmarket resorts.
Besides, there are many options for soothing Yoga and massage centers, which let you enjoy an amazingly comfortable and pleasant holiday. Enjoying the delightful rainy season in this cool and quaint town is an experience worth having.
Bekal
A place of diverse landscapes, Bekal has picture perfect beauty of a quintessential holiday destination with its wonderful forts, elegant beaches and gorgeous lush green hills. During monsoons all this beauty is greatly augmented with freshness and fragrance pervaded all over. The place is wonderfully subdued in amazing tranquility and the peace with the soothing sounds of nature mesmerizes the soul. The captivating noise of pittar-patter of rain, with cool breeze and vast expanses natural endowments is something one must look forward to in Bekal in monsoons.
Over the period of time, Bekal has evolved into an international tourist destination with a significant number of foreign travelers coming in to enjoy its pristine beauty. Located just 16 kilometers south of Kasaragod town, placed on the national highway, Bekal is a favorably enchanting monsoon destination in Kerala.
Mararikulam
A place that really transforms into a wonderland during monsoons, Mararikulam offers soothing relaxation and a welcome break from the hustle and bustle of city life. The primary center of attraction here is the vast and alluring Marari Beach that offers a perfect destination to unwind. Mararikulam is blessed with tropical climate and experiences two monsoons in a year.
A natural lover's paradise, the place receives abundant rainfall, close to 1100 mm. Hiding many more allures firmly, the place also has a diverse variety of floral and faunal wealth. This wealth includes nearly 10 species of frog, 97 species of butterflies, 3 different kinds of turtles, over 350 varieties of endemic plants and much more to keep you entertained and enthralled.
Source: http://www.keralabackwater.com/